Our Services
DSDHA's architecture is always evolving: for us each project is a bespoke response to a unique brief, which develops through dialogue with our clients, stakeholders and collaborators as well as with the ultimate users of our designs.

Our projects span from macro-scaled urban strategies and infrastructure studies through to highly acclaimed individual crafted buildings, which celebrate the act of making and materiality within architecture. These projects have evolved through a unique design methodology that deploys tactics developed across 15 years of parallel research in academia and on the ground.

DSDHA's work has been recognised with 19 RIBA Awards to date, and has twice been nominated for the European Union Mies Van Der Rohe Prize for Contemporary Architecture. The studio is heavily involved in education, currently teaching at a number of institutions, including the University of Navarra in Spain and the RCA, AA, and LSA in London.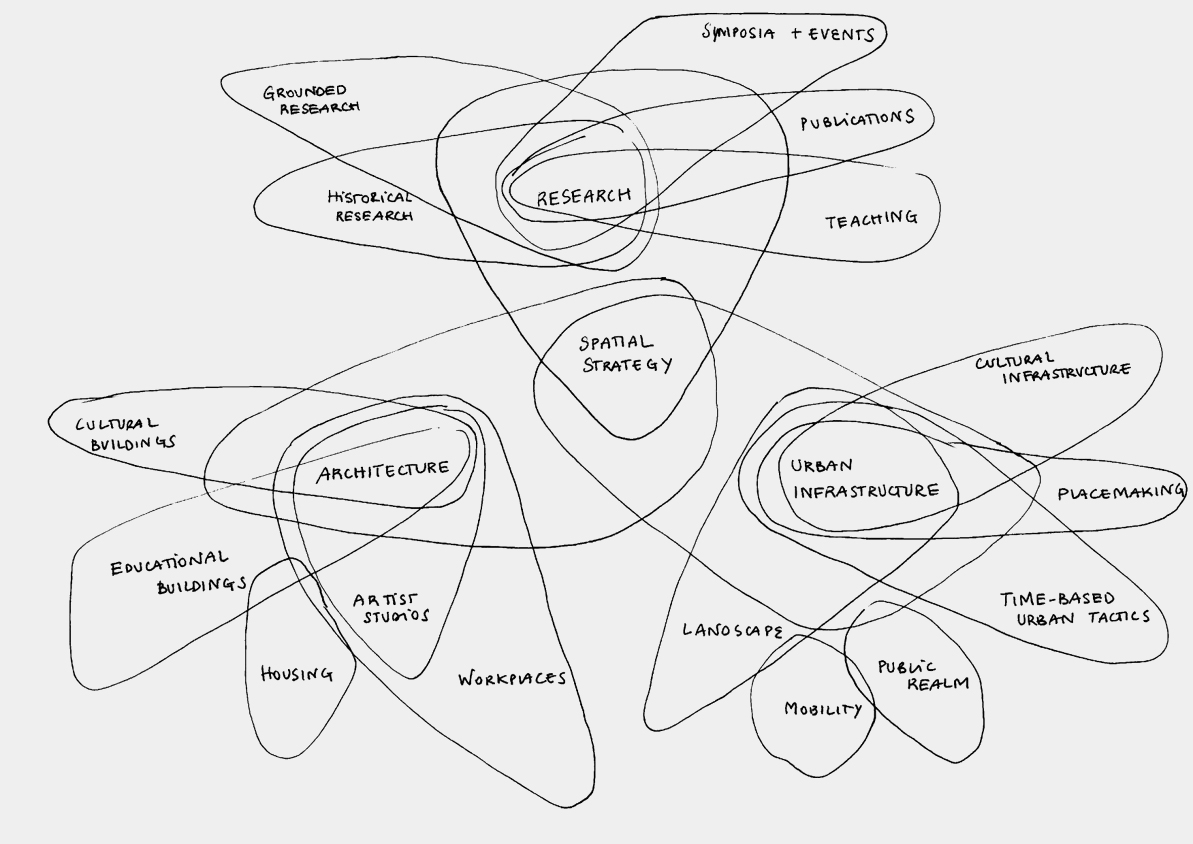 Collaborators
Jane Withers

Brompton Design District

Studio Engleback

Anthony Thresh

Adam Khan Architects

Duggan Morris Architects

Hayhurst & Co.

dRMM Architects

Project Orange

Becky Cocks

Bompass and Parr

Sir John Soane's Museum

Channel 4
Awards
AJ Retrofit Awards 2021 - Shortlisted

Building Awards - Delivering Social Value 2020, Winner
National Urban Design Awards 2019, Finalist
London Planning Awards 2018, Winner
NLA Awards 2017, Finalist

UK Property Awards - Best Architecture Multiple Residence London 2019

London Planning Awards 2019, Finalist
AJ Retrofit Awards 2019, Shortlisted
World Architecture Festival 2017, Shortlisted
RA Summer Exhibition 2017

NLA Awards 2019, Winner - Public Spaces
NLA Awards 2017, Winner - Best Public Space
Planning Awards 2017 - Highly Commended
The London Planning Awards 2017 - Finalist

World Architecture Festival 2018, Finalist
London Planning Awards 2018/2019, Shortlisted

Constructing Excellence SECBE Awards 2018, Finalist

RIBA Award 2018, Winner
Housing Design Awards 2018, Finalist
London Planning Awards 2018, Winner
London Evening Standard New Homes Awards 2017, Winner
Royal Academy Summer Exhibition 2012

RIBA Award 2018, Winner
NLA Award 2018, Finalist
London Planning Awards 2018, Highly Commended
WAF 2017, Highly Commended
AJ Architecture Awards 2017, Finalist

Camden Awards 2017, Finalist
British Construction Industry Awards 2017, Finalist
RIBA London Award 2016, Winner
RIBA National Award 2016, Winner
NLA Award 2016, Winner: Best Built Housing Scheme
RA Summer Exhibition 2014

RIBA London Award 2016, Winner
RIBA House of the Year Award 2016, Finalist

RIBA Regional Award 2016, Winner
RIBA National Award 2016, Winner

WAF Wood Excellence Prize 2014, Winner
RIBA London Award 2014, Winner
Surface Awards 2014, Winner

People Choice Award 2017, Finalist
Surface Design Award 2014, Winner - Best Retail Exterior Surface
RA Summer Exhibition 2010, Winner

RA Summer Exhibition 2012

Housing Innovation Award 2016, Winner
National Housing Award 2015, Winner: Best Small Development
RA Summer Exhibition 2013

DSDHA Kennington Lane Studio

BD Masterplanning & Public Realm AYA 2016, Highly Commended
BD Architect of the Year 2010, Winner
BD Education Architect of the Year 2010, Winner
AR Emerging Architecture Awards 2008, Finalist

European Union Mies van der Rohe Award 2011, Finalist
Stirling Prize 2010, Finalist
RIBA Awards 2010, Winner
Brick Awards 2010, Supreme Winner
Chicago Athenaeum International Architecture Award for the Best New Global Design 2012, Finalist
Guildford Design Awards 2009, Highly Commended

RIBA National Award 2009, Winner
Brick Award 2009, Supreme Winner
Guildford Design Awards 2009, Highly Commended

RA Summer Exhibition 2008

European Union Mies van der Rohe Award 2009, Nominated
RIBA National Awards 2008, Winner
Colchester 2020/RIBA New Contemporary Buildings, Joint Winner
Chicago Athenaeum International Architecture Award for the Best New Global Design 2009

AR Emerging Architecture Award 2008, Honourable Mention
RA Summer Exhibition 2007

British Council for School Environments Award 2008, Winner
British Construction Industry Awards 2007, Winner
Sure Start Building of the Year Award 2006, Winner

Civic Trust 2006, Commended
RIBA Award 2004, Winner
British Construction Industry Awards 2004, Winner: Small Building Project

American Institute of Architects Award / UK Award 2006, Winner
RIBA Awards 2006, Winner
British Construction Industry Awards 2006, Winner
Clients
Appley Properties Ltd.

Beam

Berkeley Homes

Berlin Senate Department for Urban Design

Bury LEA / CABE

Christ's College

Churchill College, Cambridge

City & General

Clivedale

Confidential

DSDHA

Davenies School

Diocese of Sheffield and Hallam

Dominican Republic Ministry of Tourism

Emmaus Primary School

GLA/ World Squares For All

Hermès

Hoyle Early Years Centre

Jones, Jones, Jones & Jones Ltd.

London Borough of Barking & Dagenham

London Borough of Camden

London Borough of Lambeth

More London Ltd

Natasha Daintry/Egg

Ocean Reef Resorts Limited

Olympic Delivery Authority

Potters' Field Park Pavilions

Private Client

Royal Commission for the Exhibition of 1851

Southbank Employers Group

Stockwell Partnership

SureStart & Islington Green Space

SureStart Colchester

Surrey County Council

Wakefield Metropolitan District Council

Westminster City Council

York Museums Trust/ Beam
Publications
A fashion shoot featuring The Smithson Plaza.

We are delighted that our project for Davenies School in Buckinghamshire has been featured in 100 Projects UK CLT.
This book is a study of 100 of the most significant buildings constructed from CLT in the United Kingdom over the past 15 years. Authors Andrew Waugh and Anthony Thistleton of Waugh Thistleton Architects have contacted a wide range of individuals and businesses to interview them about their experiences building in CLT to help inform this publication.
The book is available to download here http://thnkwood.co/wgpokI.

"DSDHA aims for super-density with contextual sympathy in a pair of central London residential buildings" writes Chris Forges about our recently delivered Abell & Cleland scheme in Westminster.

Corner House features in this great book documenting Britain's architectural heritage from 1914 to 2014. Through one building per year over the century, the book shows the wide range of designs that emerged and how housing styles were adapted to suit urban life.

"The deliberately rough materiality hints at a di erent world of creativity and artistry setting up a new kind of dialogue with the surrounding urban bricolage. Responding to the city's historic kinesis and how it is wrought and changed over time, DSDHA enjoys capitalising on London's inherent quality of 'dynamic instability' through the exploration of scale, material and juxtaposition. Snowsfields embodied a similar dynamic, with the new stories of studios stacked above a ground-floor shop."
Catherine Slessor, AJ 244, May 2017

"Wilkinson Eyre arguably produced […] a beautifully intricate services drawing of Battersea Power Station where ingenuity and compromise can be seen amid the ghost infrastructure of London's residential market. […] This is complemented by a similar study of the Economist building by DSDHA where the 'original' and 'executive' architects' design intent is both subverted and celebrated. "
Michael Collins

Covert House featured on Wohnrevue magazine

Corner House is featured in Architectural Record's editorial on 21st Century housing.

The AJ publishes an extensive building study on DSDHA and Derwent London's Corner House in Fitzrovia.

DSDHA's Christ College in Guilford is one of the educational projects featured in the latest issue of 'Best of Detail'.

Landscape Journal, Spring 2015

Paul Wheeler's article 'Thinking along new lines' looks at the work of DSDHA's diploma students at CASS, who have concentrated on the introduction of HS2 in the landscape, thinking of it as an opportunity rather than a problem.

The AJ dedicates the cover and nine pages in its Building Study to Covert House; and Ellis Woodman finds anything but a bunker in this semi-underground concrete cottage.

DSDHA designed the new Bosideng Shop on South Molton Street and was featured in AJ.

This edition of the RIBA Journal included an article on the St Anne's SureStart Center.